Welcome
. . . to Sewing Machines Australia where you will receive the utmost quality and service from a wholly owned and operated Australian family business.
You can see some of our many company trade references by clicking here. We are recognised world wide for our quality repairs and high standard of workmanship. We supply spare parts and service for all brands of machinery, catering for all industries. We carry an extensive range of new and second hand machinery.
Thank you for choosing Sewing Machines Australia for your new or used industrial sewing machines or spare parts ... you won't be disappointed.
If you haven't shopped with us before in our online store, and you would like some help, click here to see our step by step guide.
STANDARD "2 YEAR MOTOR & 2 YEAR MACHINE Warranty"
SMA K6 Heavy-Duty Walking Foot Industrial Sewing Machine
The SMA K6 machine is used for sewing heavyweight leather, canvas, vinyl and various coated and laminated fabrics. Suitable for all heavy industries, this is an ideal multi-purpose machine that is capable of sewing many varieties of work such as Harnesses, Covers, Safety Belts, Tents, Shade Sails and many more. This machine comes as a complete unit with table, stand and motor. Accessories included are extra bobbins, needles, screwdrivers, clippers, oil bottle, instruction and parts manual.
SMA offers easy 24 hour online parts ordering.
A very reliable & serious commercial machine for those wanting to repair their own horse rugs or start a rug repair business and want the peace of mind of a machine that only requires servicing every 2 years.
Application: Heavy-Duty (From 1 layer of canvas to 3 thicknesses of harness leather)
Maximum Sewing Speed: 1200 spm
Maximum Stitch Length: 13mm
Presser Foot Lift: Hand 13mm, Knee Controlled 13mm
Alternate Presser Foot Lift: 4~6mm
Timing Feed Length: Max stroke is more then 13mm
Hook: Extra Large Hook
Needle: 214x1#22/140~26/230
Lubrication: Lubricated by Hand
Download the brochure (HERE)
What they're saying about the SMA-K6
"I have been in the industry for 27 years ... repairing horse rugs and doing general canvas work ... I am extremely pleased with the machine."
Peninsular Canvas Works
"We love your machine! You can quote our operator, as saying it's "Powerful, dependable, heavy duty, very user-friendly and a joy to use!"
CHEP Aerospace Solutions
"More than impressed with the performance of this machine and it's reliability. The SMA-K6 has performed over and above its expectations."
Rugs By Reg
OPTIONS:
Piping Feet
Half Foot
1HP Electronic Servo Motor
Electronic Needle Positioning
Pneumatic Foot Lift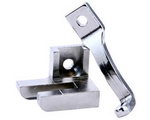 Why Choose SMA?
The difference is … our people, products, service and value
This has been a proven workhorse since 2003 with many trade references available
Standard Japanese hook and bobbin case
FREE swing-away binding arm to save many hours of manual work
FREE binding reel holder
A range of binding sizes available
Full 2 YEAR Warranty for both Machine and Motor
36mm high-quality plywood table made locally in Melbourne with matching wood drawer
Fully adjustable, powder coated steel frame for both height and pedal comfort